Know the Difference Between Durable Vs. Disposable Medical Tubing
Tubing, whether durable or disposable, or made of rubber or plastic, are important parts of many medical devices. Depending on the application, they may be made of single use plastic for hygienic reasons. On the other hand, rubber tubing or that made from more durable plastic construction is designed to be durable and so are the devices connected to it. This post offers a comparative account of durable vs. disposable medical tubing.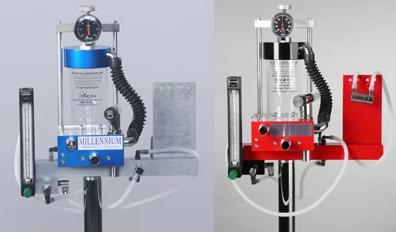 Why Choose Durable Versus Disposable Medical Tubing?
In the medical device market, the line is clearly drawn: If a tube is used in direct and extended contact with a human it is highly likely going to be disposable. This is both wasteful and costly, but necessary for the health and safety of both patients and staff. However, more durable tubing can be used multiple times and can made of rubber or plastic. On devices that are used around patients but not directly contacting them, such as with oxygen cylinders and concentrators, protective bellows and sleeves, as parts of larger pieces of equipment like beds or scanners, or even on cleaning and maintenance equipment; it is better for cost and the environment to use a more durable and cleanable product.
Comparing Durable Vs. Disposable Medical Tubing
Here are some ways to help differentiate between applications for durable and disposable medical tubing.
Construction: Medical rubber tubing is made of EPDM or silicone rubber is typically durable, robust, and meant for long-term use. Some durable tubing may also be made of plastic such as polypropylene, PVC, or polyethylene. These same plastics may also be used in disposable applications, but the construction method will be different. This typically means a thinner wall and stiffer product.

Application: There are certain procedures or tests where safety of the patient is important, and hence single use tubing is mandatory to avoid contamination as well as spread of infections and diseases. Durable tubes find applications in anesthesia tubing, oxygen cylinders, protective boots and sleeves, bellows, and on larger equipment.

Safety and Sterilization Standards: Any reusable tubing that comes in contact with a patient needs to be able to be autoclaved and/or sterilized and disinfected before its reuse on another patient. This is where EPDM and silicone rubber are important options because they can handle those high temperatures whereas even well-built plastic options cannot.

Environmental Impact and Regulation: Most disposable tubes may not be recyclable and hence their safe disposal is a concern. There are strict protocols in place when it comes to disposing blood, bodily fluids, needles, plastic tubing, and other biomedical waste, some of which may be hazardous. While durable medical tubing can be reused, it has its own set of environmental issues in the form of chemical cleaning solutions, detergents, and their release into the environment.

FDA Approval: Whether durable or disposable medical tubing, if it moves material or gas into the human body, it must be FDA approved or FDA grade material. Always check these requirements before choosing a tube material or design.
If you are an OEM in the medical industry, ensure you partner with a reliable supplier who offers quality, traceable tubing. Also, it is important that the tubing manufacturer understands your requirements and customizes accordingly. Crushproof Tubing is one of the leading players in the medical tubing segments. The company offers superior quality medical rubber tubing, custom rubber hoses, industrial rubber bellows, and more in various specifications based on your application requirements.
Related Post