Applications for Hoses and Tubes in the Medical Industry
"Tubes" and "hoses" are generic names for what are typically very specialized products which are commonly found in industries as varied as gardening, oil and gas, and medical device. These flexible tubes, usually made of rubber or plastic, are used as an input or output medium for various gases and liquids. While you may use a generic hose to water your plants, certain industries require specially designed hoses to meet their requirements. CPAP hoses, anesthesia hoses, oxygen hoses, and so on are specifically designed to meet the needs of the medical industry. This post talks about the applications of tubes and hoses in the medical industry, as well as important things to look for when choosing them for medical applications.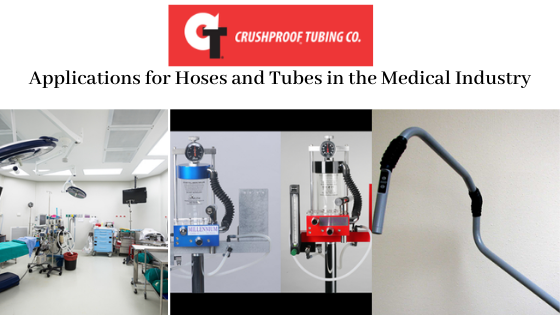 Features to Look for When Selecting Medical Hoses
Here are certain factors you may want to consider when buying medical hoses:
Is the hose for non-personal use, external human contact, or internal human contact? The material choice and level of manufacturing required varies substantially depending on what class the product falls under.
Bend radius is an important aspect when measuring the required flexibility and kink resistance.
Consider the operating environment, which will give you an idea of the temperature and heat or cold resistance these tubes and hoses should have. Cycling is also important here, as something that gets hot and cold repeatedly can degrade faster than if you are just rating the occasional extremes that the hose may need to handle.
Material hardness can be an asset or liability depending on the application. You may need thin and stiff, thick and flexible, or visa versa. Your material selection will be key to making the final properties right.
Material performance and resistance varies widely as well. Be sure to consider all the cleaning processes, chemicals, abrasion, and other environmental factors at play.
Colors are available to match your requirements in most materials. Clear polymers are possible in some but not others, and the degree of clarity can depend on the hose style and thickness of the material as well.
Many suppliers offer stretchable medical tubes, oxygen or mixed gas hoses, anesthesia hoses, and so on in specific sizes, lengths, colors, and diameters. However, ensure the supplier can customize them to suit your requirements.
Custom cuffs on the ends for airtight attachment can be very important for safety reasons. Some hoses attach to your equipment better than others, and that interface can make or break the functionality of your design.
Applications of Hoses and Tubes in the Medical Industry
Hoses and tubes common in many applications and devices in the medical industry. Here are some common examples:
Oxygen transfer
Air beds
Wheel chairs
Protective sleeves or covers for wires or other sensitive equipment
Anesthesia
Lab test equipment
Dental equipment
IV and catheter
Vacuum/suction
Fluid transfer or drainage
Pressure-bound apparatus such as BP monitoring
Massaging cuffs
Medical hoses come in many styles for a wide variety of applications, but they all have one thing in common: They need to meet or exceed specific requirements for important applications. Therefore, it's critical to get the right hose or tube custom made to your exacting standards from a reliable and capable supplier. Crushproof Tubing Company has been making hoses for critical applications in the medical, military, and breathing safety markets since 1949, and they possess an expertise in customizing rubber or polyethylene hoses based on the client requirements. They do not charge for tooling and offer free custom samples for most new projects.