Six Benefits of Choosing EPDM Drain Hoses for Your Facility
Drain hoses are designed to carry wastewater from washers, production equipment, floor cleaning machines, and other sources to a waste system or drain. Due to often demanding requirements, industrial drain hoses are built using materials that can withstand constant fluid contact, hot and cold cycling, a broad range of chemicals, and general impact and crack resistance. EPDM rubber is most popular, but specialty applications can use material like neoprene, nitrile, or silicone. So, what exactly makes EPDM drain hoses popular? This post answers this question and more.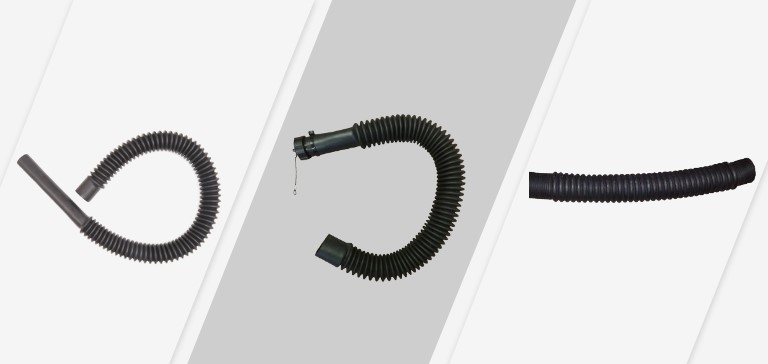 Why Are EPDM Drain Hoses a Logical Choice For So Many Applications?
EPDM drain hoses may easily pass off as any regular drain hose, however, they differ in terms of features.
Weathering Resistance: Outdoor aging, exposure to moisture, chemicals, sunlight, high temperature, steam, dirt, and debris are standard for any drain hose. EPDM is developed to withstand these conditions. It does not degrade easily, even if exposed to these elements for a long time.

Heat Resistance: EPDM drain hoses can thrive in environments where they may be exposed to temperatures as high as 350 degrees Fahrenheit. They may be compounded with specific materials for extra strength required to withstand high heat. Many users may prefer silicone for high temperatures; however, EPDM serves as a stable option in such scenarios at a fraction of the cost.

Acidity Resistance: Drain hoses often carry caustic elements, which may jeopardize their safety. EPDM is a durable material that can withstand acids and caustic elements, making it ideal for drain hoses.

Excellent Durability: EPDM drain hoses can withstand more than chemicals or weather. Being durable, they have solid tear and abrasion resistance. This means they do not tear easily, even if used in adverse environments for a long time.

Made to Fit: Although durable, EPDM is a highly flexible material. It can be easily customized with different diameters, lengths, and stretch properties to make sure it fits exactly as you want it to.

Economical: EPDM is favored over many other polymers due to its compelling value proposition. With all the previously listed features that are competitive with or better than other materials but with a lower cost, it has become the default material for many industrial drain applications.
To optimize the benefits of EPDM drain hoses, you need to invest in custom drain hoses and source them from trusted manufacturers like Crushproof Tubing Company. The company provides high-quality custom drain hoses made of EPDM material. You can see washing machine drain hoses, floor cleaning drain hoses, and industrial drain hoses made of EPDM material in custom lengths, colors, cuff sizes, and diameters. The EPDM washing machine drain hoses do not require gluing and cutting, and are easy to clamp. EPDM industrial drain hoses can withstand many types of chemicals and abuse. The company can provide you with free samples of custom drain hoses with no commitment risks. Request a free sample or get in touch with the team at the company to discuss your custom drain hose needs today.
Related Post