How to Build Custom Hoses at Crushproof Tubing Company
Technology is constantly changing our world, and the need for higher performance and customized hoses, tubing, bellows, and sleeves has increased because of it. The good news is that finding a custom solution to your design challenges has never been easier thanks to Crushproof Tubing Company. They allow you to design these custom hoses from scratch through the Build-A-Hose section on their website. This post introduces you to this section and also helps you understand how its various features may allow you to design a custom hose assembly that meets your application requirements.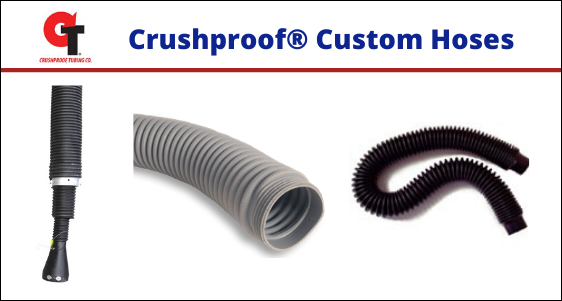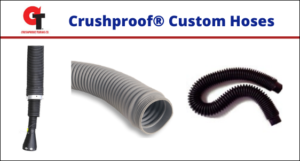 How to Build Your Custom Hose?
The Build-A-Hose section on the website walks you through some key design parameters and offers you several options under each of them. This ensures that you are considering all the important features of the design and then tailors it to your needs.
Project Type: This section focuses on the intended application of the hose. For instance, a hose may be used to move things as different as cold water, hot air, or chemicals at your facility. Maybe it is used to protect a critical assembly or stretched along a piston up to a certain distance. Thus, based on your application requirements, it is important to describe the following:

Type of material being carried, or object being protected
Maximum working temperature or pressure a hose needs to endure
Maximum stretch or compression required
Environmental requirements
Any other critical features like attachment, fittings, or assembly items

Hose Type: Crushproof Tubing Company allows you choose from the following materials to build your custom hoses:

EPDM: This synthetic rubber is made of diene monomer, propylene, and ethylene, which lends excellent mechanical properties to the tubing. An EPDM hose can withstand ozone, sunlight, oxygen, and various types of chemicals. The material also possesses excellent aging and weathering resistance properties and remains functional through a broad temperature range from -60°F to +300°F. Crushproof Tubing offers a UL-94 flame-retardant version of EPDM for use in high temperature and other critical environments.
Nitrile: It is a copolymer of butadiene and acrylonitrile which contribute to its excellent physical properties. A nitrile hose can easily resist petroleum, fuels, and water. Additionally, the material has excellent abrasion and oil resistance as well as good tear resistance. The useful temperature range of the material is from -50°F to +250° F. Nitrile hoses provided by Crushproof Tubing is ideal when petrochemical resistance is required.
Butyl: Rubber hoses made of butyl possess excellent shock absorption properties. They assure low moisture and gas permeability, and excellent electrical insulation. The material can withstand aging, weathering, heat, ozone, chemicals, flexing, and tearing. The main use for butyl is in CBRN breathing hoses due to its ability to protect against toxic gas infiltration into an air system.
Neoprene: The material is also known as PC rubber or polychloroprene rubber. This synthetic rubber assures excellent weathering and good petroleum resistance, which makes it ideal for long term use in many applications. The useful working temperature of the material is from -50°F to +250° F.
High Density Polyethylene: HDPE is a very common plastic material used in everything from water bottles to industrial hoses. It can be made food safe, has good weathering properties, is lightweight, comes in any color imaginable, and can be made into hoses that range from very stiff to very flexible in feel.

Hose Style: The choice of hose styles will depend on your application requirements. Crushproof Tubing enables you to choose from the following hose styles which are described in more detail and with pictures on the website:

Annular Spaced
Spiral Spaced
Annular Stretch
Spiral Stretch
Corded
Compress Corded

Length and Diameter: The company offers tubes with inside diameters from 3/8ʺ up to 6ʺ with maximum lengths of 6' to 100' depending on the hose style and material selected.
Cuff Size and Wall Thickness: The cuff is a built-in end configuration of any hose. The company provides an integrated cuff, which assures leak-free attachment to a variety of materials. The internal diameter of the cuff must be the same or larger internal diameter (ID) than the overall ID of the tube. For instance, they can make a 1.5" ID tube with a 2" ID cuff, but not the other way around, or you can also choose no cuff at all.
The wall thickness affects many features of the hose, including durability, abrasion resistance, gas permeation, pressure and vacuum rating, compression, extension, and flexibility. The company can provide hoses in various wall thicknesses to meet your needs, and sometimes softer or harder material can be used to make a thinner wall feel stiffer or a thicker wall feel softer, for example.
Additional Information: Things to mention here include what you are currently using if this is a replacement item, annual volume, special features, or anything else that seems relevant to the project but is not included above.
The team at Crushproof Tubing Company will analyze your forms and assist you in making the right decision regarding the materials and sizes. The company also provides flexible rubber bellows hoses and industrial rubber bellows.
Related Post