Top 5 Things to Consider When Choosing Medical Hoses and Tubing
Although medical-grade tubing and hoses look similar to several other industrial hoses and tubes, they can differ in several ways to meet the specific requirements of medical device manufacturers and hospitals. Some tubes need to meet stringent FDA requirements but many applications do not. Choosing the tube or hose for a medical application is not an easy task due to several challenges involved. This post offers 5 easy-to-follow selection tips for medical hoses and tubing.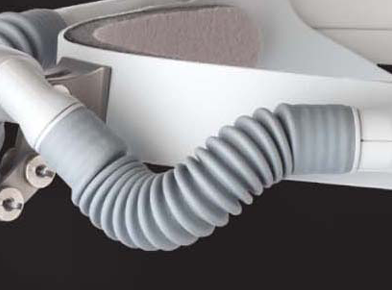 5 Tips to Choose Medical Grade Tubing and Hoses for Your Application
Many medical applications use medical rubbing tubing or flexible plastic tubing and hoses for gas transfer, fluid transfer, protective covers, and bellows. While these are all "medical" applications, the requirements for the tubing are drastically different. The following pointers will help you make the right decision.
1. Focus on the Materials: The hoses and tubes in this industry are made of different types of rubber and plastic. The following are a few common materials used for the same.
EPDM: Ethylene Propylene Diene Monomer (EDPM) is an elastomer that assures exceptional mechanical performance in medical environments. The EPDM rubber tubing can survive hot water, steam, and polar solvents; it is very flexible and durable; and it can be autoclaved.
Butyl Rubber: Medical rubber tubing made of butyl rubber offers the least amount of gas permeation. In simple terms, gasses do not move through butyl and that makes it ideal for applications requiring segregation of gasses.
Silicone: This material is flexible, soft, and available in a wide range of colors and even clear. The tubing is non-toxic, and it can withstand a wide range of temperatures.
PVC: Commonly used where a light, low-cost option is required. Not the most durable material, but for many medical tubing applications where a short lifespan is expected this is a feature rather than a defect.There are myriad other options available. This is just a short list to demonstrate the wide range of options. The most important thing is to work with a trusted manufacturer who can help make sure that you get not only the right material but that it is formed into a tube that truly meets your needs.
2. Ensure the Hoses and Tubing Meet Regulatory Approvals: The tubing may need to meet different regulatory approvals for use in medical devices. If you are aware of the type of approval such as Underwriters Laboratories (UL) or the United States Pharmacopeia (USP) Class VI, then you need to check if the manufacturer can provide you the supporting documentation. There are off-the-shelf tubing options that may carry these certifications up-front, and custom manufacturers will often have materials that are known to meet certain specs. Again, this is a great example of the importance of working with an experienced and reputable supplier or manufacturer.
3. Learn About Ingredient Incompatibilities: Manufacturing rubber and plastic products is a complex process that involves many different compounds. Various toxic materials found in some blends are known to contaminate fluid or gas. They are also included in lists of prohibited compounds created by governmental groups from across the world such as REACH and RoHS as well as Cal Prop 65. Having proper material certification and traceability is critical to meeting these standards and avoiding costly fines and/or returned product.
4. Temperature Requirements: The tubes or hoses may be used to transfer hot or cold gases or fluids. The frequency and cycle times of temperatures is also very important as it can have drastic effects on durability in some materials. You should also consider the environment where these tubes and hoses may be stored and the duration as both factors can impact the final material decision.
5. Body contact: There are three broad groups of rubber and plastic tubes in the medical industry:
Those used for administering medicines, fluids, or food in hospitals and healthcare facilities must ensure the materials chosen do not interact with gas and fluids transported through them. The requirements for such tubing are far more stringent than for those which do not directly touch a person.
Those that are used for breathing or similar air movement applications that may require some level of certification.
Those that are used on equipment like beds, carts, headsets, etc. that are in a medical setting do not contact patients.

Crushproof Tubing Company has supplied medical tubing products for over 70 years. The company provides these tubing and hoses in custom specifications for applications such as oxygen and mixed gas transfer, anesthesia equipment, air beds, and wheelchairs. Its medical rubber tubing and flexible plastic tubing are also used in lab test equipment, vacuum suction, and dental equipment. They offer low-volume custom runs of tubing to meet our exact needs and it is all made in the USA in an ISO9001-2015 certified factory.
Related Post