Home
>
Blog
>
Custom OEM Hose
>
An Overview of the Types, Benefits and Applications of Flexible Plastic Tubing and Hose
An Overview of the Types, Benefits and Applications of Flexible Plastic Tubing and Hose
Flexible plastic tubing and hoses are commonly found in almost every major industry including automotive, power, medical, military and agriculture. Applications vary widely, but the most popular are gas and liquid transfer, material handling, blower, intake, and vacuum. Made using plastic compounds with varying degrees of flexibility and rigidity, they have revolutionized the ways liquid and gas is transported and used. In several applications, flexible plastic tubing and hoses have been largely replacing metallic tubing as they are lighter to carry and cheaper to produce. This post focuses on flexible plastic tubing and hoses, their types, benefits, and applications.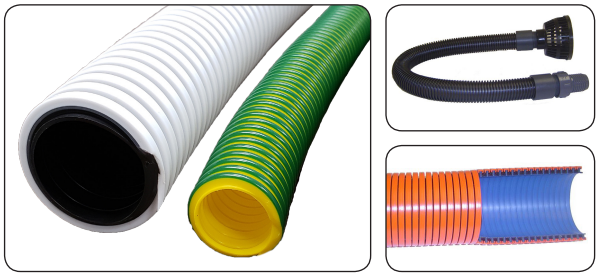 Types of Flexible Plastic Tubing and Hoses – Based on Material
Today, you will find a variety of custom plastic hose and tubing that facilitates the movement of fluids and gases for an expansive range of applications. With so many options available, you should make a choice depending on the type of material to be transported, compatible pressure/temperature, environmental influences, and life span requirements, among others. Common material options include:
Polyethylene Tubing
Nylon Tubing
Urethane Tubing
PVC tubing
PTFE Tubing
Polyamide Tubing
Polypropylene Tubing
Benefits of Plastic Tubing and Hoses
Custom plastic hose and tubing are a great solution when medium to large volumes are needed. In-stock solutions are quite diverse, so even lower volume projects can be successfully completed.
Durability: Plastic tubing and hoses come with a wide variety of durability ratings, ranging from disposable to those that can handle rugged industrial environments.
Versatility: Plastic hoses and tubing come in different sizes, colors, and shapes. The tubes can be bent, flexed, coiled, and cycled through various movements. Thread-on or glue-on ends can allow for better attachment.
Corrosion Resistance: Plastic tubing and hoses resist corrosion, and this is a great benefit for industries that have corrosive liquids flowing through their systems. Diversity of material options makes finding a tube that can withstand corrosive media such as acids and alkalis, as well as caustic chemicals to meet your needs will not be difficult.
Lightweight: Compared to metal hoses and tubing, plastic hoses are light in weight and thus are convenient for day-to-day handling, transportation, and storage.
Recycle: Not all plastic tubing can be recycled, but many of them are.
Safety: Many plastic tubing options have been approved for food and beverage use and for medical use. Check for certifications before buying.
Cost Effective: Compared to metal and rubber, plastic tubing is by far the least expensive. If you can get the performance you need, there's no better value.
Applications of Flexible Plastic Tubing and Hoses
Common uses include:
Irrigation systems
Material handling
Air conditioning and refrigeration systems
Water drainage systems
Automotive connections
Wire sleeves
Industrial cooling systems
Pool plumbing
Breathing hoses and tubes
Medical devices
Vacuum
Air intake
Blower/ventilation
Flexible plastic tubing and hoses can also be customized to fit the needs of the applications. They can be manufactured with thin or thick walls, long or short, with wire or without, custom cuffs, stretchy or fixed length, and in unlimited colors. Since there are several customization options available, it is highly recommended to get the tubing and hoses from a leading manufacturer like Crushproof Tubing Company that specializes in custom building of flexible tubes and hoses. Take advantage of the customization possibilities of the company by contacting the team through their Build–a-Hose form.
Related Post