Air Intake Hose and Tube Manufacturing – Important Factors of Consideration
Air intake hoses are an integral part of engines in vehicles and heavy equipment. These systems are commonly made from molded plastic or cast metal, but are also available in more flexible materials such as rubber and silicone. The key purpose of an air intake hose is to make sure there is enough oxygen to keep the engine it's attached to running smoothly. That requirement means there are certain things to keep in mind when designing these air intake hoses. This post focuses on these requirements and more.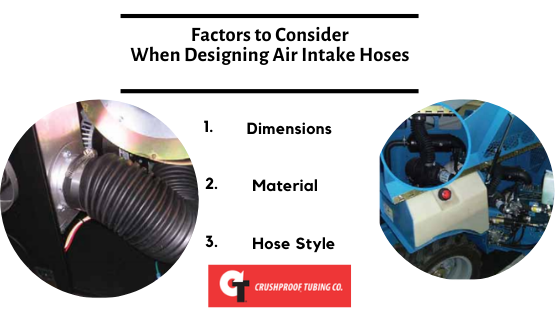 What Industries Are Using Air Intake Hoses?
Flexible air intake hoses made of rubber are common in the automobile industry and they have also become popular in these other industries:
Manufacturing Equipment
Construction Equipment
Cooling Systems
Generators
Blowing/Ventilation Equipment
Furnace and Industrial Heating
Agricultural Equipment
Factors to Consider When Designing Air Intake Hoses
An engine's performance is improved with the addition of oxygen or air. If there is an insufficient amount of air, then the engine cannot operate at peak performance and will demand more fuel for operation. An air intake hose creates an airtight intake system. Any manufacturing defects in the hose may affect the engine performance and lead to poor fuel economy. So, certain points need to be considered when creating air intake hoses.
Precision: Dimensional accuracy of an air intake hose is important. Thus, its manufacturing process must be controlled to meet the requirements of original design.
Material: The choice of material depends on the following factors:

Operating temperature of the equipment or vehicle where the hose is being used
Working environment of the equipment or vehicle
Amount of flexibility and vacuum resistance required
Resistance to ozone, ultraviolet rays, or chemicals
Vibration and mounting requirements

Hose Style: In terms of rubber air intake hoses, there are several different styles available including smooth formed hoses (like a radiator hose), lightweight convoluted, heavy-duty convoluted, and even stretchable. Each of these styles have features that can improve the performance and/or cost of the installation, and your requirements will dictate which is best for your application.
Just like anything else surrounding an engine, when it comes to selecting an air intake hose the design, material, and quality matters. It is important to source your flexible air intake hoses from a trusted and reliable manufacturer like Crushproof Tubing Company. The company specializes in custom air intake tubing and hoses and has been providing them in custom specifications to its clients across countless industries since 1949. You get to choose the length, ID, material, wall thickness, and overall flexibility so you can avoid leakages and loose connections as well as allowing for easy routing inside any compartment. Along with an appreciable manufacturing experience and industry expertise, clients can also benefit from free design assistance, free samples, and free drawings, and all the custom air intake options that the experts at Crushproof Tubing Company offer.
Related Post