Home
>
Blog
>
Exhaust Hose
>
The Role of Garage Exhaust Hoses in Maintaining Clean and Safe Workspaces
The Role of Garage Exhaust Hoses in Maintaining Clean and Safe Workspaces
Everyone understands the importance of maintaining a clean and safe workspace, but one area that can get overlooked is exhaust fume removal. A reliable garage exhaust hose is essential for shop safety because it can remove toxic gases produced by vehicles during the combustion process. This post highlights the role of garage vehicle exhaust hoses in keeping your shop safe and clean.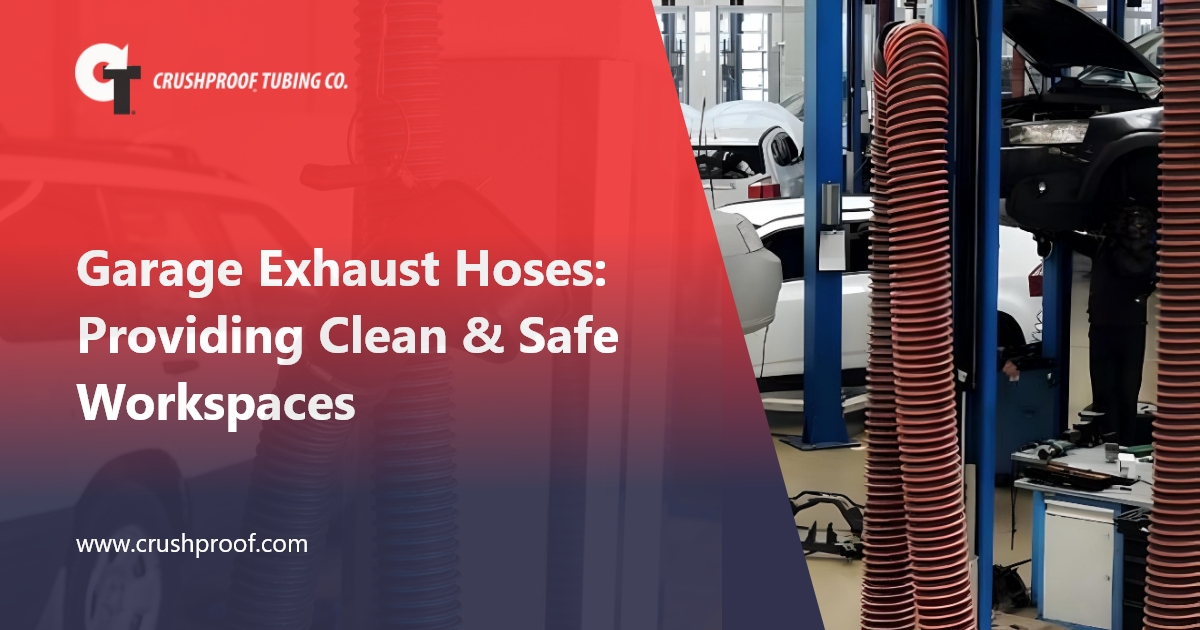 How Garage Exhaust Hoses Help Ensure Worker Safety
Below are a few benefits of using quality garage exhaust hoses in auto repair shops:
Removing harmful exhaust fumes: Vehicle exhaust contains carbon monoxide, nitrogen oxides, and particulate matter which can be harmful to human health. By inhaling these gases, workers may be exposed to severe health risks, including several types of heart and lung diseases and cancers, as well as death. Garage exhaust hoses are usually connected to the tailpipes of vehicles to capture these toxic gases and compounds escaping the engines. This prevents mechanics and other people in the area from inhaling these gases.
Protection against Health Risks: As discussed before, people working in garages may develop significant health issues due to prolonged exposure, such as: headaches, dizziness, respiratory damage, and even cancer. Using the correct garage exhaust hose system helps minimize the risk of adverse health effects by effectively removing exhaust gases.
Improved Efficiency: A clean and comfortable workplace contributes to better efficiency and productivity. Minimizing the risk of any kind of exposure to harmful gases is not only the right thing to do but will make sure your shop team is feeling their best. Fatigue, dizziness, and headaches that may be attributed to other everyday causes may in fact be low-level carbon monoxide poisoning.
Compliance with Workplace Safety Regulations: Occupational safety and health rules are in place to protect workers from harmful substances. In the automotive service business, exhaust extraction equipment such as garage exhaust hoses are required. As a result, by installing these car exhaust systems, garage managers and owners ensure compliance with these requirements and prevent fines and other legal consequences.
Protection of Customer Areas: In many auto workshops, customers regularly visit showrooms to get their vehicles serviced and sometimes they are made to wait in designated waiting areas located near the garage. These exhaust hoses help in preventing the flow of exhaust fumes into these customer areas, which ensures a pleasant experience for clients. When you're spending so much time and money making sure your lobby and showroom look great and are inviting, why risk having noxious fumes migrating into those spaces?
With such an important role to play, you cannot ignore the importance of garage exhaust hoses in keeping any garage safe and clean. If you are also looking for a reliable vehicle exhaust systems provider then look no further than Crushproof Tubing Company, which is an ISO 9001:2015 certified manufacturer and supplier of garage exhaust hoses. The company provides many popular garage vehicle exhaust hoses, including FLARE-LOK®, ACT, MODOR, and LightScope 643. These hoses are also provided with a line of accessories, including tailpipe adapters, splice connectors, Y-assemblies, door ports, elbows, and so on. With over 70 years of industry experience, Crushproof Tubing Company has experience in solving exhaust removal challenges of all types of garage applications imaginable.
Related Post