Crushproof Tubing offers Customers Online 'Build-A-Hose' Option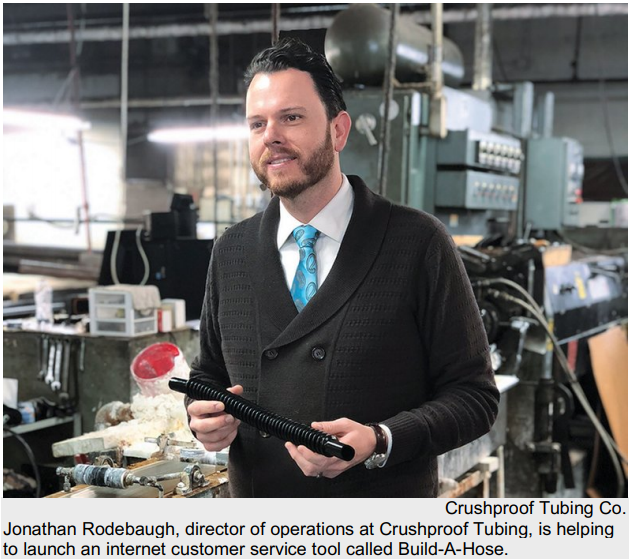 McCOMB, Ohio—An Ohio company is turning to the internet to create a new business opportunity in its rubber hose manufacturing operation.
Crushproof Tubing Co. believes this new approach will appeal to fledging companies looking to save money on their product development costs. This, Crushproof director of operations Jonathan Rodebaugh said, is a coming out party for an online program developed by Crushproof Tubing to help customers design their products.
Dubbed Build-A-Hose, the web-based portal is designed to help establish new projects without any start-up costs such as tooling or molding, said Rodebaugh, who also is a partner at McComb-based Crushproof.
Crushproof, itself, is not your typical hose manufacturer, he said. And Build-AHose in not your typical way to spec out a project.
The company uses an extrusion technology at the core of its offerings instead of relying on a molding approach. Workers and tools then are used to customize the extruded rubber products to customer specifications.
"It's a proprietary process so I will have to dance a fine line here. We don't want to give away our secret sauce," Rodebaugh said. "Our process uses various tools and people to take that extruded profile and then manipulate it into an actual hose shape. And we cure that hose shape."
While he called the approach proprietary, he also said it was "definitely a simple process."
Now the company is promoting use of the internet to connect with customers to see if that type of manufacturing approach will work for their projects.
Potential customers only need to fill out information online regarding their product types and special features, hose type, length and diameter, cuff size and wall thickness, and any other important additional information. Company representatives will be in contact with those customers and provide a sample hose for consideration, Rodebaugh said.
Build-A-Hose has been in the development stage for a couple years, but recently was completely redesigned as company officials were never really happy with the old approach. The new portal, at crushproof.com/build-a-hose, recently went live.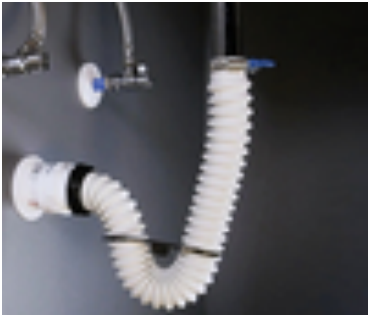 Crushproof Tubing sees Simple Drain as alternative sink solution
The company is promoting the redesigned website after not seeking attention as it went through its previous beta testing stage. If customers stumbled upon Build-A-Hose previously, that was fine, but there was no marketing. With what Rodebaugh called a much-improved design, Crushproof sees Build-A-Hose as a way to better serve potential customers while keeping their development costs low.
"With us, you can reach out to us, build the hose on our page, and within 24 hours you will have a response back whether we can make it for you or not," he said. "If we can't make it, we can try to solve the problem for you.
"Perhaps we can change it or use some of our connections to be able to get you what you are looking for."
Or the company can refer customers to other firms they believe can help.
Build-A-Hose can be valuable for start-up businesses still in the development phase of their products and hose needs, according to Rodebaugh. Project iteration, which involves changes along the way to create a final solution, can mean that specifications change over time.
Supplying hoses through the Build-A-Hose approach allows for flexibility as those projects are being developed.
And for projects that already have a final hose design, the Build-A-Hose approach can save what Rodebaugh said could be thousands and thousands of dollars in hose mold development costs.
Taking a web-based design approach toward hoses is attractive, Rodebaugh said, for people like himself.
"I enjoy going on to auto websites and building the latest Rolls-Royce just for fun to see the different things they offer," he said.
The approach also will be attractive to engineering-type people, like himself, who simply can go to the website and input information without the need to make an initial telephone call.
Making rubber hoses might not be considered cutting edge by some, but the intersection of manufacturing with the internet age "was the inspiration behind it as we get into a more digital world. Being able to get out there and say there's customization you can do," Rodebaugh said.
Crushproof Tubing has 32 employees working out of a 40,000-sq.-ft. facility in McComb.
Reference Link – https://www.rubbernews.com/hose/crushproof-tubing-offers-customers-online-build-hose-option