High quality and heat resistant hoses and tubing are an essential aspect of fume extraction and exhaust extraction systems in garages, automotive workshops, industrial units, and so on. However, you cannot have an effective fume removal system without the proper connector to the exhaust pipe. Crushproof Tubing Company offers various types of tailpipe adapters which are durable, crush-proof, and resistant to harsh conditions. These tailpipe adapters are a critical part of an effective exhaust removal system.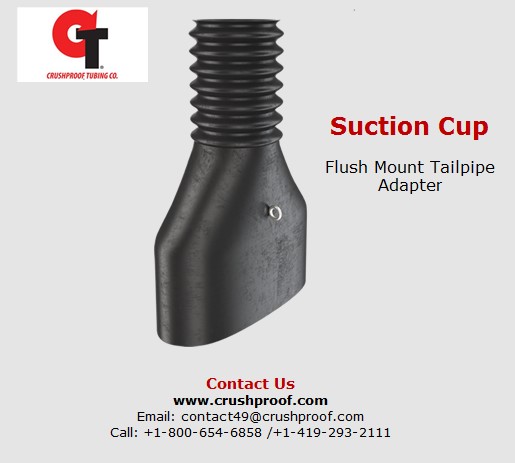 Types and Features of Tailpipe Adapters Offered by Crushproof Tubing Company
Exhaust pipes have become a sort of fashion statement on cars and trucks these days, but those cool looking designs also make vehicle service much more difficult. That is where we come in. Our line of tailpipe adapters allows you to effectively service almost any vehicle with any exhaust configuration, whether it is a wide oval, flush-mount, or dual exhaust. Here are some broad categories:
Straight adapters: From 2.5" to 8" inside diameter, we offer a wide range of sizes to choose from.
Oval adapters: Used for both twin pipes and for oval and other wide shaped pipes, our oval tailpipe adapters find many uses in a garage.
Stack adapters: We have 6", 8", 9", and even 12" inside diameter adapters for vertical stacks on tractor trailers and other large vertical vehicle exhaust applications.
Flush-mount adapters: We offer an optional industrial-grade suction cup with adjustable lanyard to allow our adapters to hover over an integrated tailpipe while protecting the paint from damage.
Universal adapters: These adapters can be closed to a smaller size using the included twist-locking pins to fit a wide range of tailpipe sizes.
Crushproof Tubing has been a leading supplier of garage exhaust removal products since 1949 because we have continued to innovate along the way. There is no better example of that then our line of adapters that changed and grew as the vehicle market did. This ensures that our tubing products can be used in just about any exhaust application, so please reach out to us for more information about your specific design needs. We are here to help.